To collect the 2.5PI.... a 2300km trip round. We did it in 32 hrs!
We left home friday late afternoon. Packed the Golf with all sorts of tools and spare parts so we would be able to repair the PI in case of a breakdown. You can expect it all from a 39 year old car. A car I've never seen before in the flesh. Only received some pics and a rough discription from the seller. (who only speaks French!) Sometimes you have to take a risk in life.. The first leg of this trip was pretty much uneventful. The Golf diezzzeled us very reliable and quick towards the South of France. We made good progress and arrived 01.00 at Nimes. The plan was to find a F1 hotel and get some sleep. We used TomTom to find the nearest F1 hotel, this nearly succeeded as we never arrived exactly at the address. Still, it was close! Unfortunately (due to French holidays) all F1 hotels were fully booked in Nimes. So we continued our trip towards Montpellier. Here we found a F1 hotel which had a room available.
The next morning we wake up in sunny France. 16 degrees and palmtrees, crazy! From Montpellier it is only a 30min drive to St Andre de Sagonis. We arrive exactly 9.00 at the workshop from Serge. The lady of the house (and 2 friendly dogs) are already waiting for us. She also speaks French only. The PI is waiting for us on the ramp. Which is good because now we can inspect the car from underneath as well. A happy surprise as the car is really as solid as expected. No rust at all! First impression is good, although the paintwork is very flat. In the meantime Serge has arrived. He explains to me in French about all the work that is done to the car. Amazingly I can understand him very well. Oui oui, merci, tres bon! After a short testdrive on the industrial estate we decide that this car is actually very good. Well worth the trip!
After arranging the boring stuff (paperwork and money) we start for our second leg on this trip. Plan is to take the scenic route back. We have 2 days left. First we need to fill up with petrol, those webers need some juice! Luckily there is a Esso station down the road. Even better, there's a Lidl supermarket on the other side as well. Very odd to walk into a Lidl in France. You feel directly if you were in Germany. Grafwalder beer makes me think about Nurburgring weekends! Time for breakfast. Buying old cars makes hungry.
After breakfast we take the scenic route towards Valence. This turns out to be a rather interesting stretch of road. Very twisty and almost no trafic. Very good for testing the big Saloon. Have to say it goes really well for such a big car, Webers sound awesome. Especially above 4000rpm. After 1hr of enthusiastic motoring we stop to inspect the car. All seems ok! Feeling more and more confident about the car.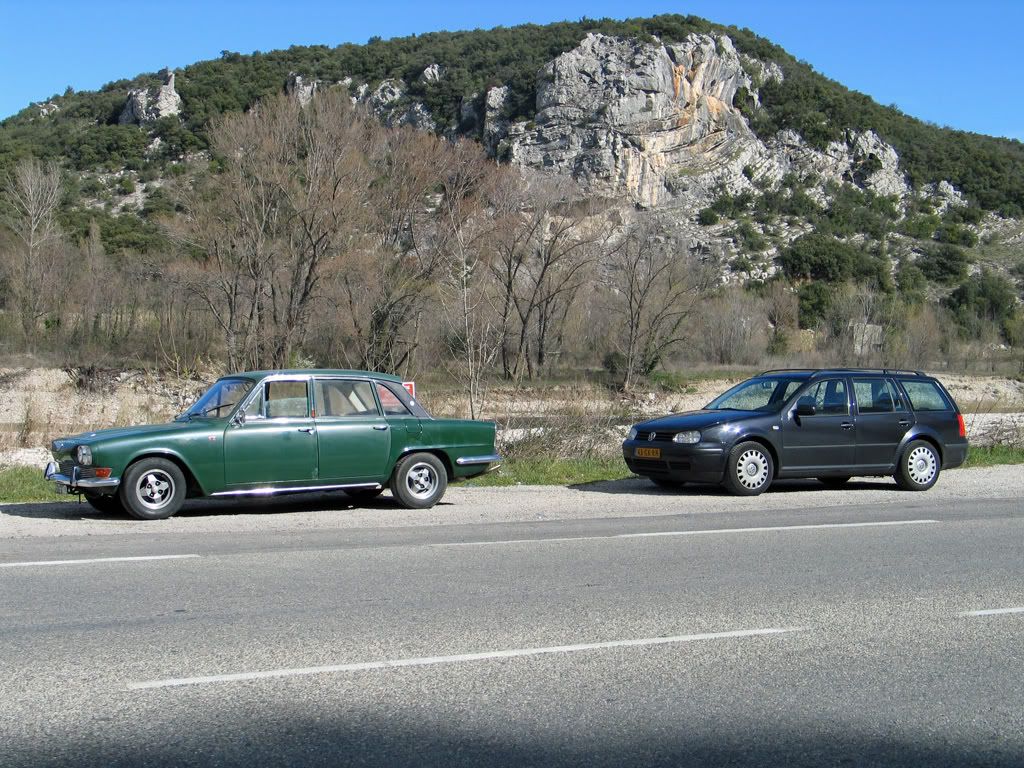 Once we have reached Valence we stop a second time. After checking TomTom we realise it's only 880km back home and ETA will be around midnight. Very tempting! So we decide to take the motorway from here and try to drive it home. Change of plan! Saloon goes really well at motorway speeds (130-140km/h). It's quiet and really comfy. I don't feel the need of changing to the modern Golf. Only concern is the fuel consumption. It needs loads! From Lyon to Dijon trafic got worse due to the end of some French holiday. It slowed us down but luckily trafic never stopped completely. After Dijon towards Metz the roads got quiet again so we could speed up. A last petrol stop in Luxemburg. Good coffee as well! From here it was only 250km back home! 0.30 we arrived in vlaaiburg. Totally exhausted but we made it. Saloon made it too. Without any breakdown! Think it is a good buy.....