After missing out on the 2009 edition of 10CR I was quite happy to be invited as a co driver for this years event. A couple of weeks before the run Michael Charlton contacted me about co-driving in his Spitfire mk3. Sounded like fun, so I replied with a "yes please!" Arranged a couple of days off work and booked a silly cheap flight to London Stanstead. That's all I had to take care off. Michael had already sorted out the hotels etc for the run, so that was easy. On wednesday it was straight from work to Eindhoven Airport. Els took me up in the Mini, so I could already get used to British comfort. Some hours and a pleasant flight later Michael collected me from Stanstead in the Spitfire. The weather was typical british and not looking very promissing for the next couple of days. From Stanstead it was straight into the pub for a meal with some of the other usual CT suspects. Next morning was an early start as we had to be at the Plough around 08.00. Luckily for me it was 09.00, being still on contintal time. The car park was slowly filling with Triumphs and it was good to see all those people again that I hadn't seen for a long time.
Some pics from the start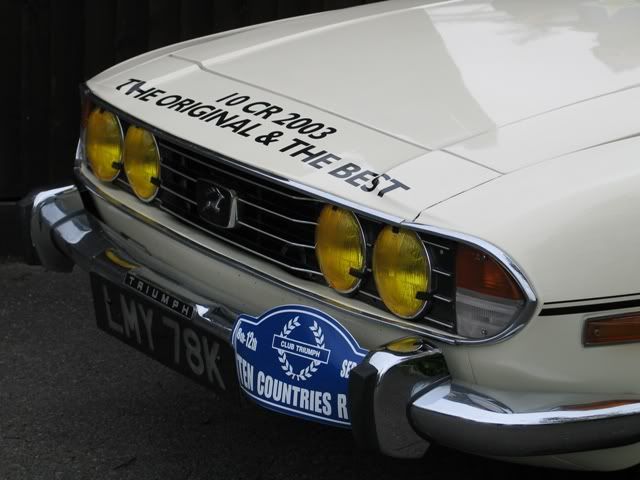 After a brief briefing from Mr Stokes we were off to the ferry, top down as it was dry!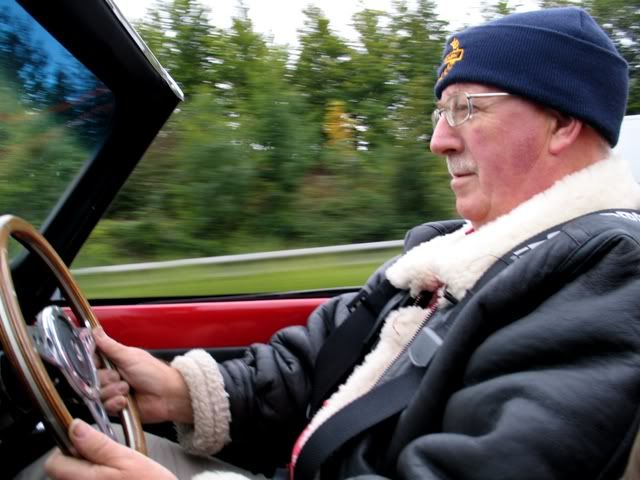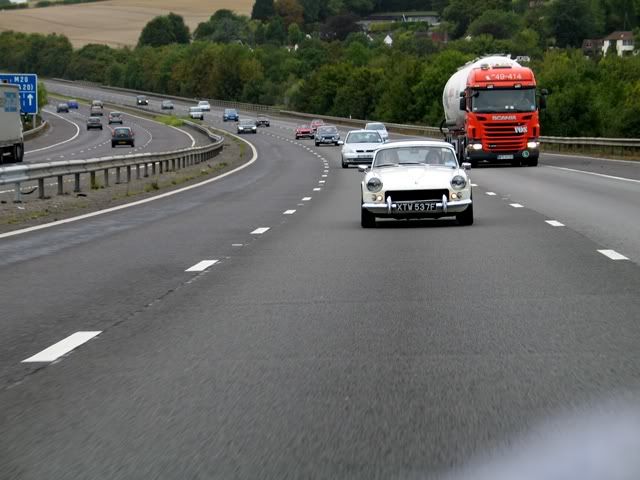 Dover, typical view of a CT car park, bonnets up!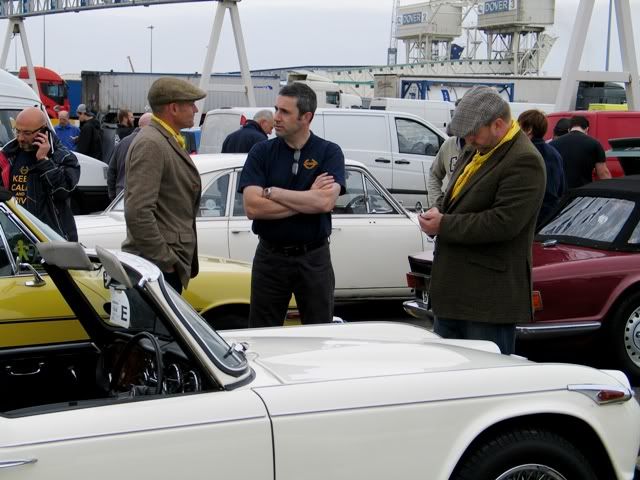 Not much to say about the crossing to Calais, except for the food being rubbish and expensive. (what's new) Next stop would be Steenvoorde to collect the continental starters. It would also be my first drive in the Spitfire. I didn't take long to make me feel at home behind the Moto Lita wheel. Very much like my GT6, only a bit cooler! After a relaxing cruize down the French motorway we arrived at Steenvoorde services, the second control post.
After the control I continued on with driving through France. Next destination was Charleville were we had another controled stop in Kebaptown. Never seen so many Kebap shops in one street. Nearly one shop for every Triumph that night! Good for me as I do like Kebap. Our little Triumph was running very well so we continued our trip towards Belgium and Luxemburg, still top down. From Luxemburg it was all the way down to Switzerland. I tried to catch some sleep while Michael behind the wheel tried to catch up some time. We also catched up some serious fog at one of the first passes. You could only see a couple of meters in front of the car and it slowed us down quite a bit. Finally we made it to our 2hr stop at Bartenheim. Ellis again found a quiet parking space for 65 Triumphs, so all the teams could take a rest. Even better, he also arranged a wake-up service at 04:45. The parking space turned out to be exactly located behind the runway of Basel airport. Thank you Boeing 737 for waking me up!
Next on the list was Switzerland and not much later the first serious mountain pass, the Gotthard. A great road and still quiet as it was early in the morning. I very much enjoyed driving the Spitfire on that twisty road.
Italy would be the final country for the day, although we had to cross borders a couple of times. The weather was excellent by the time, blue sky and sunny. Couldn't be better. Soon we had to take off our jackets as temperatures were rising. Life can be hard sometimes.
Booooo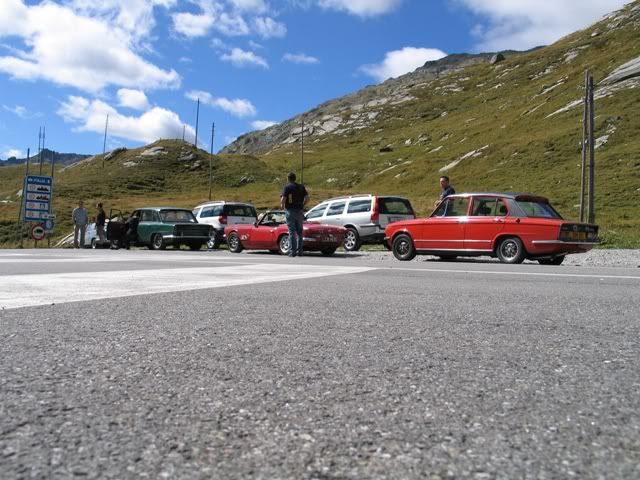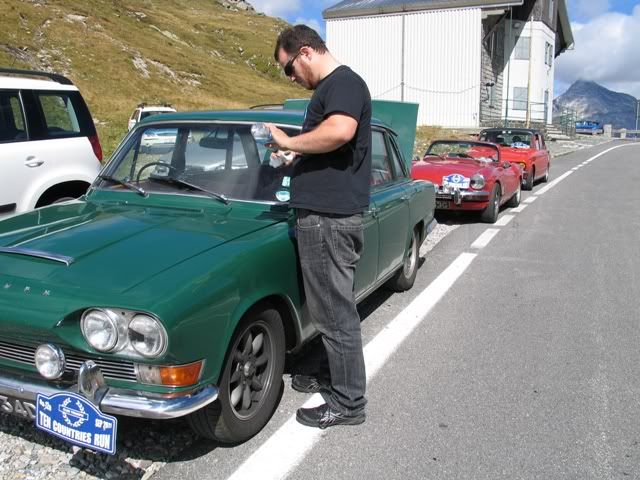 Finally we arrived at our hotel in Varena. We already had covered an amanzing amount of mountain passes like Gotthard, Splugen, Bernina, Umbrai and Stelvio. Time for a beer!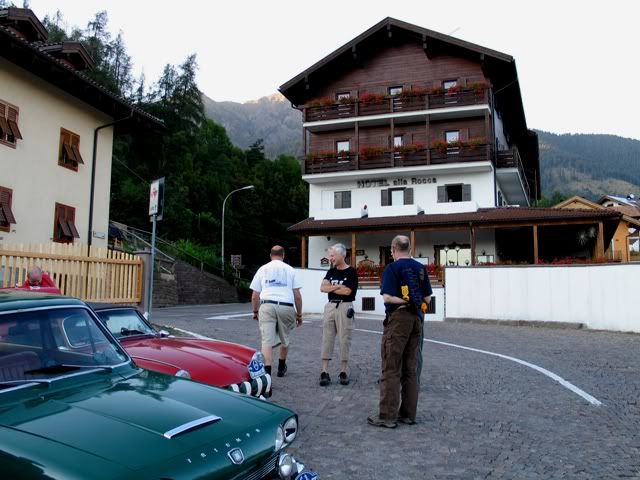 And the morning after...
Start of the second day, beautiful weather again!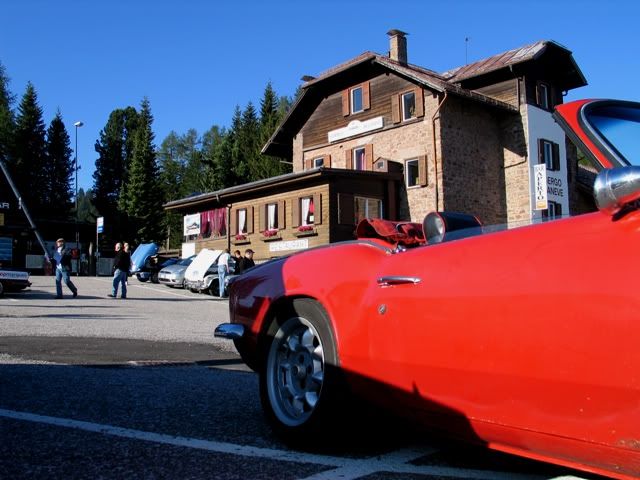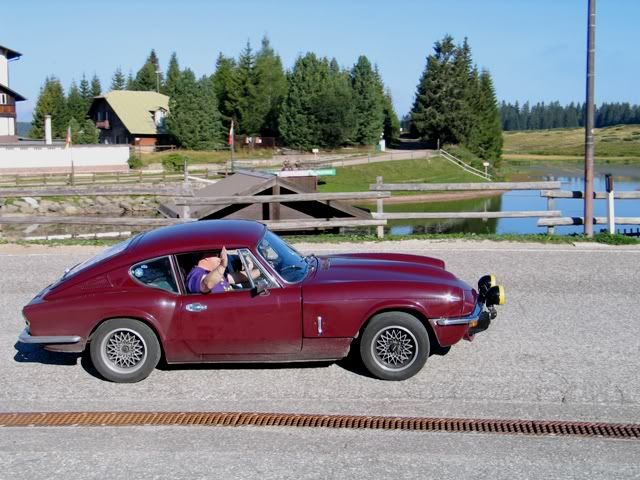 On the road again.......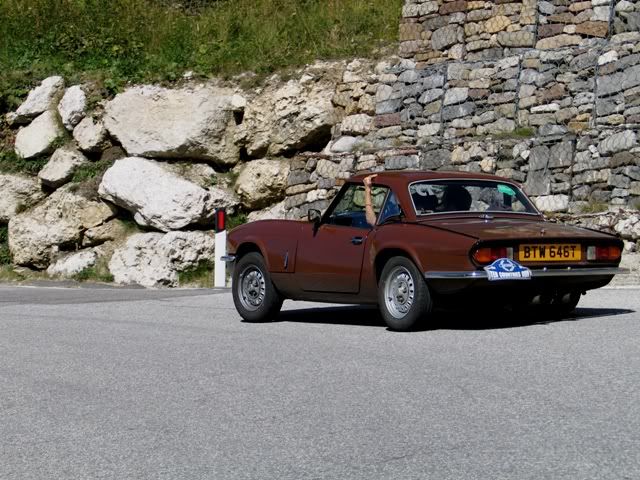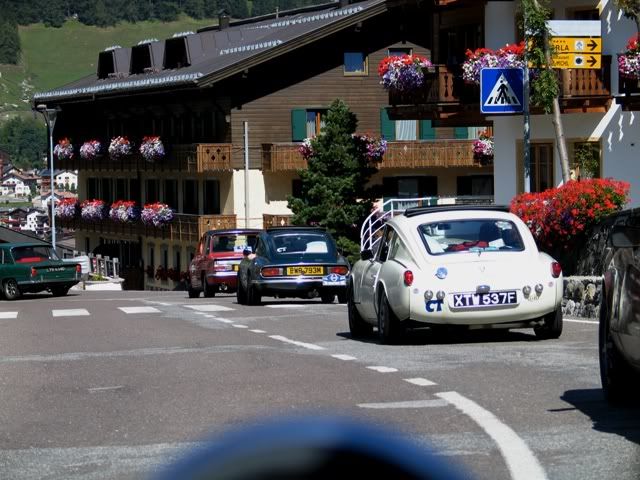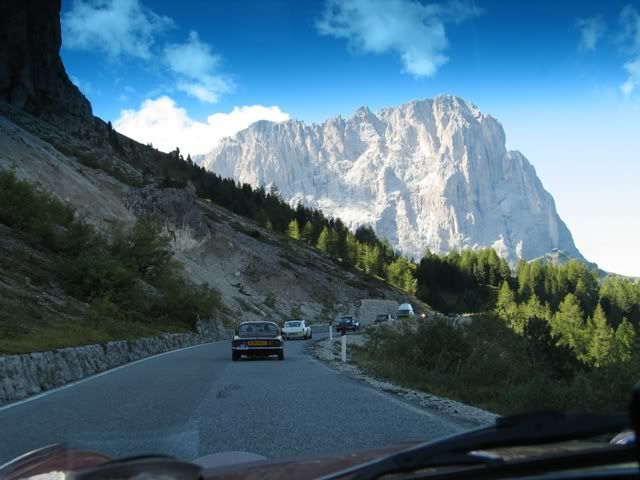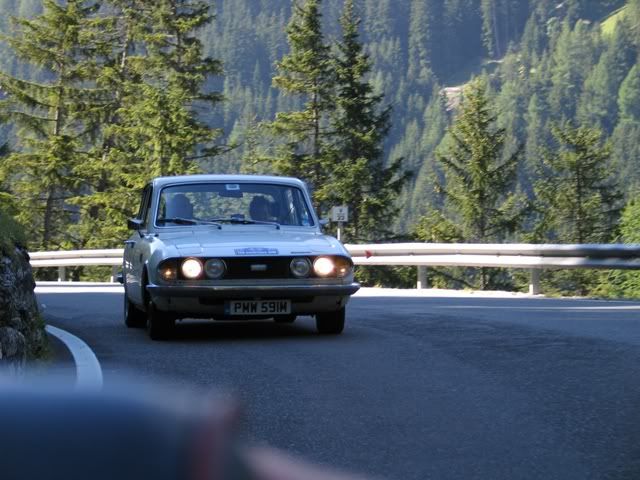 Last Mountain pass on the menu was Timmelsjoch. Unfortunately it was very busy on the road, not much to enjoy really. Things got all wrong when we had a puncture not far from the top. We managed to find a safe space for a wheel change within a couple of meters. As we changed the wheel we soon found out what caused the puncture. Excessive wear on the inside of the wheel had killed the tyre. The other side wasn't much better. Long story short, we arranged a second spare wheel from Math Helm and carried on with two spare wheels at the rear. Not ideal but it would bring us home. At 21.00 we arrived at the hotel in Germany. It was a long day. After sorting out our rooms we went to an Italian restaurant that was still open. The owner turned out to be a nice guy and the pizzas tasted good. The owner even provided us with two crates of beer. Back at the hotel Philip and Garry arrived in their 2000 V8. They had some fuel pump issues but managed to get home in true A-team style. They bodged up a secondary fuel supply from a jerrycan that was situated at the passenger footwell.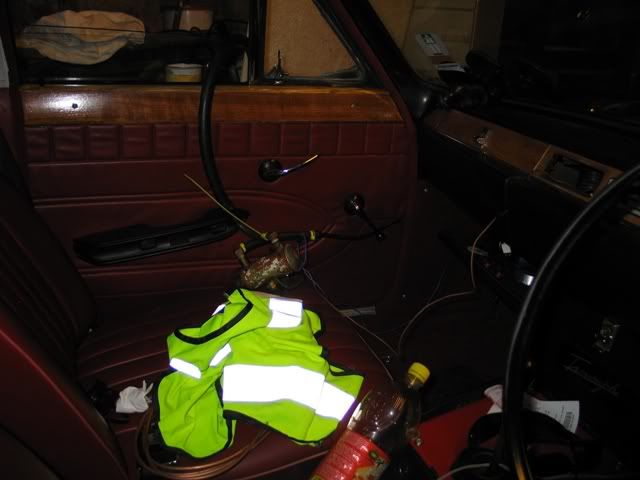 This was actually their upgraded version.
First attempt
was far more basic.
Anyway, the hotel garage turned out to be a good supply to build a new temporary fuel system.
I learned the British how to
open a bottle of beer
by using your Spitfire or GT6. Must say, the night was quite enjoyable in our little CT garage.
The next morning....... well............. I better quote Michael:
The story going something like this............
Arrived Leutkirch, went to pizzeria, had pizza and two large beers
Pizzeria place supplied us with two crates ,40 1/2 ltr bottles of beer, one went with Burnerboy and one with our teams (4) and afterwards went to bed
Told Roger ,previously to set alarm for 6.30am. That went off whilst I was shaving and was still going when Id finished.
Turned off the alarm, and said "Roger ".........nothing
His hand was flopped over his mouth, and again I shouted "Roger"........nothing
Then I shook his wrist flopping around like a fan..........nothing
Then I prodded his shoulder twice........nothing
All the time he was still snoring..........
So I stuck his mobile phone in his hand and rung his number ................twice.............ringing with the TOP GEAR music on lound........nothing
Whilst still snoring I then shook him and again shouted
"ROGER !"
at which point , he looked up and in a sedate voice said " Morning"
Let's say, I needed some time to recover but made it back to life just in time!
On the road again, last section, Ze German Autobahn.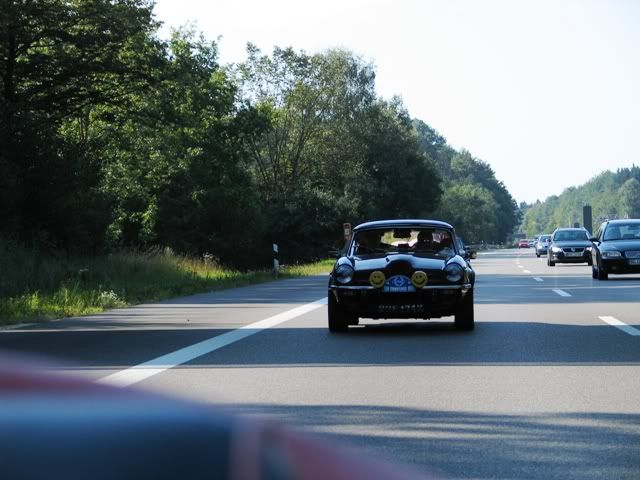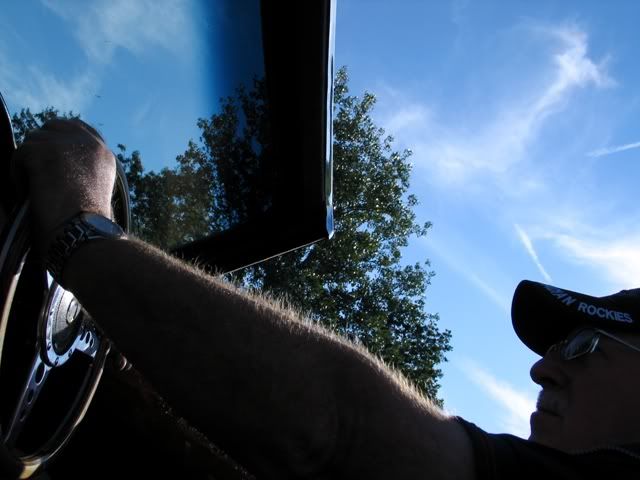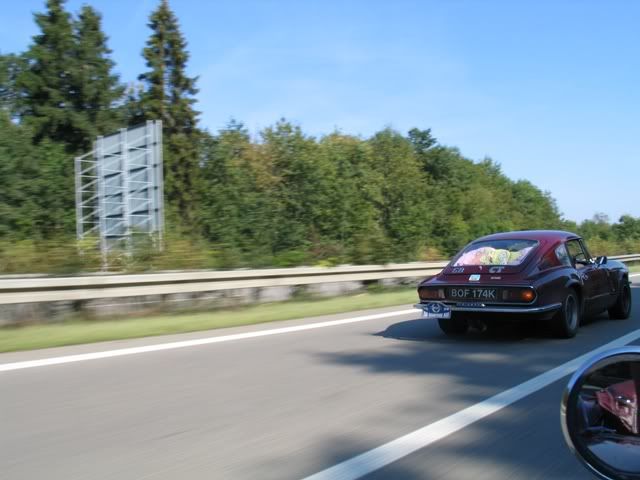 Controlled stop in Germany. I remembered these people from the International Spitfire Weekends I used to go some years ago. It was nice meeting with them again. thanks for the coffee!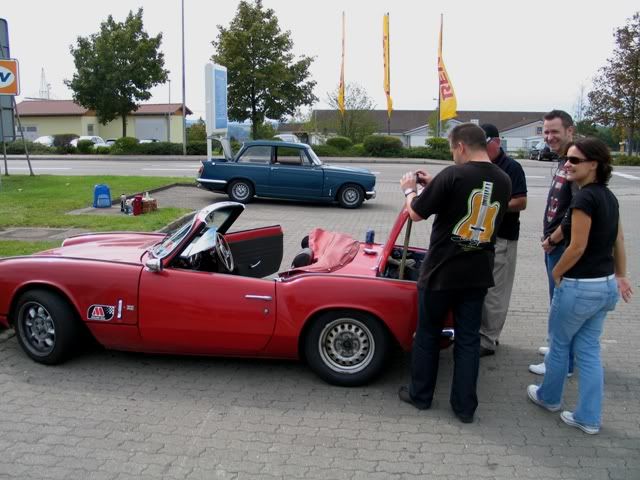 After Saarbruecken we hit some tremendous rain that continued all the way up to Belgium. The top was down and we deceided to keep it down as long as possible. As long as you keep on driving you'll stay dry. Kind of..... A quick stop at Spa-Francorchamps to take a photograph for evidence, then continued into the Netherlands. Just before Maastricht we catched some more rain and as a local I knew it would be wise to put the hood up. (trafic lights!) The last couple of miles towards Rolduc we had the hood up first time since the Plough. We nearly made it all the way top down.
At Rolduc we got welcomed by Els, who had collected a new windscreen for Team Roo. The windscreen was provided by René (Mr Nachtrit).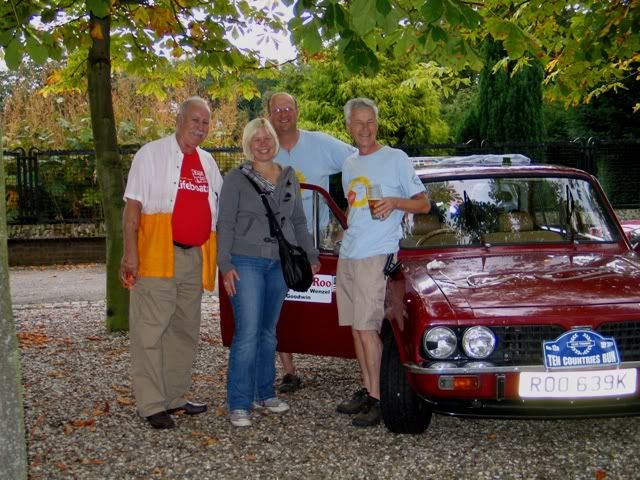 Spitfire was water-tight.......
After the meal at Rolduc it soon was time to go home. 10CR 2011 was top! I enjoyed every minute and every mile of it. A big thank you to Michael for trusting me behind the wheel of his car and looking after me during the run!